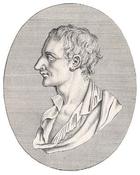 On 15 August 1750 one of the most radical socialist atheists of all times was born in Paris. Sylvain Maréchal, a poet whose Manifest of the Equals was too much even for the egalitarian conspiracy of Gracchus Babeuf, was the author of an Almanach des Honnêtes Gens, in which he proposed a new calendar replacing the names of the Saints with those of the "benefactors of humanity" - philoso-phers, writers and scientists. Maréchal left one blank in his Almanach: August 15, his birthday.
The following documents (all in French) are available:
The IISH holds one of the largest collections of Maréchal's writings anywhere. Please consult our catalogue.