Individuals or organizations who wish to publish editions of source materials, in whatever form, must first contact the Director of the Institute.
Selfmade copies
In general, library and archive material, provided it is in good condition, may be scanned, photographed or copied.
For printing or scanning from microfilm / microfiche, equipment is available.
For scanning, copying and printing, equipment is available.
See our rates.
How to order copies
The Institute has a reproduction section where, for a nominal fee, reproductions can be ordered (pdf-scans).
See our rates.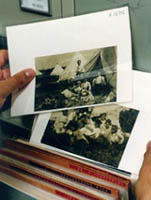 Search the IISH catalogue to identify the specific publication, poster, or photograph you want to have copied.
It is possible to order digital reproductions through the online catalogue, using the button 'Request Reproduction', found next to the Call Number. You will be able to request an offer first, or order and pay directly.
Please note: Access to some archival collections may be restricted. Before ordering reproductions of archival documents, please check the available on-line finding aids of archival collections.

We regret that we will not be able to process requests for copying any documents that are too vulnerable to be handled.
In most cases, the IISH does not hold the copyright of the material. The IISH does not mediate in matters pertaining to copyright of third parties. See Copyrights.