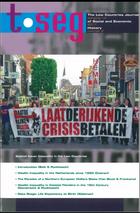 The Tijdschrift voor Sociale en Economische Geschiedenis  - Low Countries Journal of Social and Economic History - (TSEG), published on behalf of the IISH and the Dutch-Economic History Archive (NEHA), is one of the premier Dutch-Flemish journals in social and economic history.

The TSEG journal is published four times a year and offers scholarly articles on a broad range of topics from the social and economic history of the Low Countries. 
Key words are: entrepeneurship, labour, social movements, power and (in-)equality, group cultures, networks, identity, gender, ethnicity, economic growth and ecology, business and technique. 
Every issue holds summaries in English. Table of contents and English summeries can be found on the TSEG website.