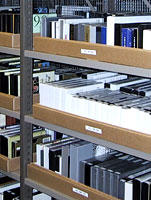 Number: 5366 videotapes (as of 1.6.2005)
Format: VHS, U-matic, Betacam, Betamax, V2000, Hi8
Access: Videotapes are accessible accessible through the catalogue. Search for 'video' plus organisation, person, or subject. Of some collections more detailed lists are available (see below).
Consultation: Not available for loan. VHS, U-matic and Hi8 can be consulted in the reading room by previous arrangement.
Reproductions: Copies can be ordered - see rates.
Some important collections
The Netherlands
video archive Oktopus Amsterdam
video archive Video Persgroep Amsterdam
videotapes Rabotnik TV Amsterdam
video newsletters El Sol from Nicaragua
videotapes PvdA
videotapes AJC
commemoration 'February strike 1941'
DAT tapes and videotapes on Marinus van der Lubbe for the film Water en Vuur
videotapes Staatsarchief, the Dutch squatters' movement and Vrije Keijser Televisie
video archive FNV Bondgenoten [PDF asttached]
Other countries
various recordings and documentaries of May 1 demonstrations
documentaries on the Paris Commune 1870
interviews and documentaries on the Spanish Civil War
documentaries and recordings of the Beijing student protest in 1989
oral history project on the Iranian Left - list attached
oral history project on the Bengal and Indian left
interviews with Turkish unionists
documentaries on racism from collection United Amsterdam
documentaries anti-globalism demonstrations
documentaries on multinationals from collection DIAS
recordings of the Croatian television on Serbian war acts, 1991
videotapes on the war in former Yugoslavia
videotapes Amnesty International The Netherlands - list attached
videotapes Greenpeace
videotapes Medienwerkstatt Freiburg for project Artur Die Gewaltfrage 1968
'Advisory Opinion on the Legality of Nuclear Weapons' at the International Court of Justice in The Hague, visual document of the legal case enhanced by the IPPNW in 1995
raw material for Turkish film Bir kirmizi gül içinde
videotapes Working Group Indigenous People (WIP) - list attached
videotapes Solidariteitskomitee Mexico - list attached
Nederlands Instituut voor Zuidelijk Afrika (NIZA, Netherlands Instiute for Southern Africa)
videotapes Missionair Centrum Heerlen - list attached