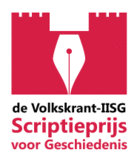 On the occasion of the 75th anniversary of the Institute in 2010, the IISH and Dutch Newspaper de Volkskrant created an annual prize for the best master thesis in the field of national or international history, written at a Dutch University.

The winner will be awarded a price of € 1500. The best thesis will receive attention in De Volkskrant.  
From now on applications for the Volkskrant-IISH thesis award 2017 can be be sent in.
Past year's winners
Contact
More information: Aukje Lettinga (IISH communications advisor) Tel: +31 20 6685866 or ale@iisg.nl