This is a selection of posters about rights from the collection of Bangladesh Posters, collected by the IISH and Heritage – Archives of Bangladesh History . Click on the picture for an enlarged image.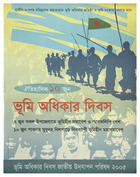 1.'Land Rights Day - land rights and agricultural reform are necessary to empower the rural and urban poor.'
National Committee for the Celebration of Land Right Day (2005).
2. '8 March - Stop killing, rape and human rights violations against women.'
Bangladesh Women's Committee (2003).
3. 'We, men, will fight oppression of women and make life healthy and beautiful.'
Ministry of Women and Children's Affairs, Dhaka.
IISH Call nr: BG E27/138
4. 'Stand up against racial oppression and all kinds of discrimination!'
Hill Women's Federation, Rangamati (2004).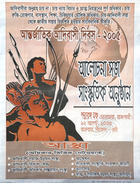 5. 'Indigenous people do not want favours but impartial justice and full rights to self-determination'
Rights Based Network, Ghoramara (2005).
IISH Call nr: BG D78/307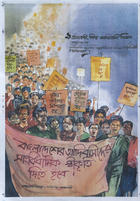 6. 'The indigenous people of Bangladesh must be given constitutional recognition in preparation of 9 August, World Indigenous Peoples' Day'
Indigenous Students of Rajshahi University (ASARU).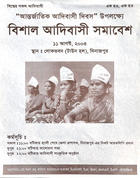 7. 'Indigenous people of the world, unite! Huge assembly of indigenous people.'
Dinajpur (2003).
8. 'I also have a right to the benefits of education in my mother tongue – I demand to learn in my mother tongue!'
Multitude of Indigenous Students and their Guardians/Organisation for the Social Development of the Barind Region, Bogra (2006).
9. 'Just imagine! Some child who goes to town in search of work, and find himself or herself hunted by human traffickers or pimps, or tricked into sexual abuse – you must make sure that your child is safe!'
Insidin – Bangladesh Displaced Childhood Plan.
Design: Sazzad Mahmood.

10. 'Our promise – Girls' rights – Observe National Girls Day.'
Design: Domion N. Penheiro/Color Horizon (2004).
11. 'If you beat children, they won't want to go to school. If you give them affection rather than punishment, children love coming to school.'
Primary and Public Education Department, Education Secretariat, Dhaka.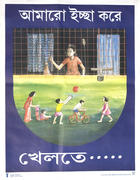 12. 'I, too, want to play…'
Bangladesh Children's Rights Forum.