This is a selection of posters about public issues from the collection of Bangladesh Posters, collected by the IISH and Heritage – Archives of Bangladesh History. Click on the picture for an enlarged image. 
 
1. 'The verdict of the People's Court must be carried out immediately. We demand that the traitor Golam Azom be hanged.'  
Forum for Secular Bangladesh and Trial of War Criminals of 1971. 
IISH Call nr: BG D30/274

2. 'Stop communalism! The call of the Committee for the Uprooting of Traitors and Collaborators of the War of 1971.'  
(Dhaka, 1999).
IISH Call nr: BG E14/660
3. '3 November - Jail Killings Day. The people demand a trial of the murder of the four leaders.' 
National Four Leaders Committee (1999).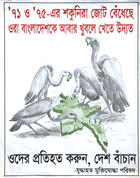 4. 'In 1971 and 1975 vultures grouped together; today they are again ready to devour Bangladesh. Save the country: stop them!' 
Association of War-Injured Freedom Fighters.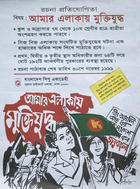 5. 'Composition contest on "The Liberation War in my area".'   
Bangladesh Children's Academy (1999). 
IISH Call nr: BG D30/231
6. 'Don't cause your own downfall. Don't use an open latrine, or drink water from canals or lakes, or forget to wash your hands before eating, or fail to remember to cover food, or eat stale, spoiled food! Keep healthy by avoiding these bad habits!' 
NGO Forum.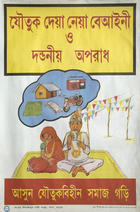 7. 'It is illegal and a punishable crime to give or take dowry. Let's make our society dowry-free!' 
Rangpur Dinajpur Rural Organisation, Rangpur.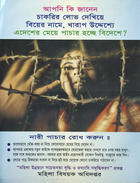 8.  'Did you know? Women are trafficked from our country to other countries, tempted by a job, under the guise of marriage, or for bad motives – Resist the trafficking of women!' 
Secretariat of Women's Affairs, Dhaka.
9. 'During life many proposals may come your way – marriage, a good job, travel abroad – and they may bring you success. But be careful! Check them carefully, otherwise you may fall victim to human traffickers.' 
Action against Trafficking and Sexual Exploitation of Children, Bangladesh Chapter.

10. 'Corruption digs its own grave – Stop corruption, right now.' 
Transparency International Bangladesh.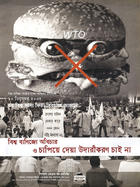 11. 'World Trade Organisation - world trade is unfair and we do not want imposed liberalisation.' 
People's Forum on Millennium Development Goals (2005).