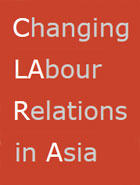 The International Research Programme on Changing Labour Relations in Asia (1998-2003) aimed to build a comparative and historical understanding of labour relations in different parts of Asia. The programme focused on five strongly overlapping themes namely, the labour process, labour mobility, labour consciousness, gendered labour and labour laws and labour movements.
The project aimed at promoting inter-Asian cooperation and the cooperation between Asian and non-Asian institutions. Its main activities were the coordination of workshops and panels in larger conferences, research projects, networking, publications, and the setting up of a databank.
CLARA was a 'joint venture' of the International Instiute of Social History and the International Institute of Asian Studies (IIAS, Leiden).
Publications
For a complete overview of working papers and other publications resulting from the CLARA project,  please consult the CLARA publications (available in PDF format) or contact the former programme coordinators dr Ratna Saptari or Prof dr Marcel van der Linden (mvl@iisg.nl).
More on the research programme can be found in the Changing Labour Relations in Asia brochure.