Location:
Pakhuis de Zwijger, Amsterdam
20:uur, kleine zaal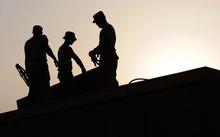 Hoe kunnen we beter omgaan met illegaal werk, ongedocumenteerde arbeidsmigranten en uitbuiting?

De schoonmaakster van je moeder, het brave buurmeisje dat weleens op je kinderen past, de Pakistaan die polaroid foto's maakt, de Oekraïense in een bordeel, de Chinese masseuse en de afwasser in de keuken van je stamkroeg. Wat hebben ze gemeen?

Veel van hen verdienen op 'illegale' wijze een deel van hun geld. Voor sommigen is het iets wat zo loopt, voor anderen is er geen andere manier om geld te verdienen. Zwart werken zal waarschijnlijk nooit verdwijnen, maar hoe kunnen we hier beter mee omgaan? Kunnen we het werk reguleren en zo uitbuiting en illegaliteit voor zijn?
Zwart werken roept bij velen een negatieve connotatie op, het doet denken aan illegaliteit, die weer vaak wordt gelinkt aan criminaliteit. Realiteit is dat er verschillende soorten en maten onzichtbaar werk bestaan in onze stad. Wie zijn de onzichtbare arbeiders van Amsterdam? Wat voor werk doen ze? En waarom werken mensen in de informele economie?
We zien ze vaak niet, maar illegalen zijn niet meer weg te denken uit onze maatschappij. 'Pak alle illegalen op en de economie stort in elkaar'. De enige optie voor ongedocumenteerde migranten om in Nederland geld te verdienen is door zwart te werken. Hoe gaan we daar eigenlijk mee om? Is het bijvoorbeeld niet een beter idee om arbeidsmigratie te legaliseren, dienstcheques uit te delen zoals in België werd gedaan of de uitkeringsgerechtigheid aan te passen?
We bespreken dit met onder andere Leo Lucassen, Directeur Onderzoek van het Internationaal Instituut voor Sociale Geschiedenis. Hij publiceerde samen met Henk van Houtum in oktober dit jaar het boek 'Voorbij Fort Europa', waarin ze de tegenstrijdige een averechtse effecten van het huidige migratiesysteem blootleggen.
Moderator: Bahram Sadeghi
Bijwonen is gratis, maar aanmelden via Pakhuis de Zwijger
Reeks: De Toekomst van Werk
Het Internationaal Instituut voor Sociale Geschiedenis (IISG) en Pakhuis de Zwijger organiseren een reeks avonden waarin de trends, de praktijk en de toekomst van werk(gelegenheid) worden besproken. Werk vormt de ruggengraat van onze samenleving. Werk zorgt voor inkomen, een gestructureerde dagindeling, gevoel van eigenwaarde en verbinding tussen mensen. Ons werk willen we dus niet kwijt, maar toch is het aan ingrijpende verandering onderhevig. Machines gaan de mens in steeds grotere mate aanvullen of vervangen, flexwerken lijkt immer aan populariteit te winnen en werk dient vaker gecombineerd te worden met zorgtaken. En hoe zit het met werkeloosheid en tweedeling op de arbeidsmarkt? Het IISG doet internationaal onderzoek naar de geschiedenis van werk en arbeidsverhoudingen en beheert een grote collectie op dit gebied. De uitkomsten van historisch onderzoek kunnen zo bijdragen aan een beter begrip van de arbeidsontwikkeling in het heden.