Location:
Universiteit van Amsterdam Oudemanhuispoort 4-6, Amsterdam Zaal C 2.17, 16.00 hrs
2nd annual Prince Dr Sabbar Farman lecture in cooperation with the International Institute of Social History (IISG) and the Amsterdam Initiative for Iranian Studies (AIIS)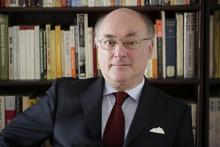 Professor Chehabi will discuss that Iranian society is characterized by a cultural divide between those who have, however superficially, adopted a cosmopolitan lifestyle and those who are more inclined to stick to the old ways. The origin of this bifurcation lies in the nineteenth century, when growing numbers of Iranians became familiar with Europe and concluded that the solution to Iran's perceived backwardness was an emulation of all things European. Beginning in the 1920s, this view informed state policy, and was internalized by what has come to be known as the "modern middle class."  The revolution of 1979 put an end to the political hegemony of this segment of the population, but in spite of large-scale emigration and political emasculation, cosmopolitan Iranians have reproduced themselves and maintained cultural hegemony: Iran's culture wars go on. This lecture analyses the origins, stages, and different expressions of these culture wars from the mid-nineteenth to the early twenty-first century.
Professor Chehabi will be introduced by prof dr Touraj Atabaki (IISH).
Houchang E. Chehabi was educated at the University of Caen, the Institute of Political Studies in Paris, and Yale University, where he received his PhD in political science in 1986.  He taught at Harvard University and UCLA before joining the faculty of Boston University as a professor of international relations and history in 1998.  He is the author of Iranian Politics and Religious Modernism: The Liberation Movement of Iran under the Shah and Khomeini (London: I.B. Tauris, 1990), editor and principal author of Distant Relations: Iran and Lebanon in the last 500 years (Oxford: Centre for Lebanese Studies, 2006), and has edited or co-edited a dozen books, most recently (with Grace Neville), Erin and Iran: Cultural Encounters between the Irish and the Iranians. His articles have appeared in Daedalus, Diplomacy and Statecraft, Government and Opposition, International Journal of the History of Sport, International Journal of Middle East Studies, Iranian Studies, Journal of Persianate Studies, Journal of Southern African Studies, and in various edited volumes.
Prof Dr  Touraj Atabaki (moderator) is Senior researcher at the International Institute of Social History. He also holds the chair of the Social History of the Middle East and Central Asia at the School of the Middle East Studies of the Leiden University.
The Prince Dr Sabbar Farman - Farmaian Research Project is an academic, non-profit organization founded and financially supported by the Farman-Farmaian Family, with the mission and objective of promoting and supporting research and scholarship on Iranian social and political history, culture and civilization, with special focus on the Qajar era (1794-1925).