Date:
7 October 2017
to
15 October 2017
Location:
Eetcafe De Avonden, Amsterdam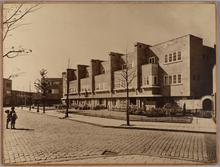 Geluk kun je bouwen. Of liever, een goed gebouwd huis, buurt of dorp draagt bij aan het levensgeluk.

100 jaar geleden was dat voor sociaal bewogen architecten en politici aanleiding om voor de werkende klasse betaalbare huisvesting in open en groene tuinsteden te scheppen. In tal van Europese landen, van het conservatieve Groot-Brittannië tot het revolutionaire Rusland, werden tuinsteden in alle soorten en maten aangelegd.
Zo ook in Amsterdam, waar her en der tuindorpen of tuinwijken ontstonden. Een daarvan is Betondorp, in de jaren 1920 gebouwd door de modernste architecten en met de modernste materialen van die tijd.
Aan de hand van een wandeling door deze wijk wordt duidelijk hoe men bijna 100 jaar geleden dacht dat architectuur en geluk hand in hand gaan.
De wandeling wordt georganiseerd door het Internationaal Instituut voor Sociale Geschiedenis (IISG) in het kader van de Maand van de Geschiedenis en het Weekend van de Wetenschap. 
Inleiding en rondleiding Betondorp
Tijdens de inleiding in Eetcafé De Avonden vertelt historicus Henk Looijesteijn over de geschiedenis van dit Amsterdamse gebied. Daarna volgt een rondleiding door Betondorp.
Henk Looijesteijn is historicus en onderzoeker bij het Internationaal Instituut voor Sociale Geschiedenis. Hij geeft regelmatig rondleidingen door Amsterdam.
Data: zaterdag 7 en zondag 15 oktober
Tijd: 11.00 tot ca. 13.00 uur; 15 oktober 11.00 tot ca. 13.00 uur. Het programma begint met koffie en appeltaart.
Beginpunt: Eetafé De Avonden, Middenweg 398, 1097 VA  Amsterdam.
Aanmelden 
De rondleiding is gratis, maar vanwege het beperkte aantal plaatsen, graag aanmelden via secretar[at]iisg.nl ter vermelding van 'Rondleiding Betondorp'. Graag de datum vermelden waarop u wilt komen.