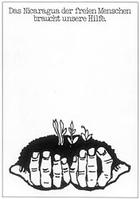 The Informationsbüro Nicaragua is one of the oldest organizations of the solidarity movement. The history of the Desk closely reflects the cycles of solidarity movements in Central America and especially in Nicaragua. The Desk also pursues an individual course and frequently adopts a stand of its own in political debates. Since its establishment, the Informationsbüro Nicaragua has promoted internationalist debates through gatherings, campaigns and seminars.
The Informationsbüro was established in 1978 to support the struggle for liberation from Somoza's dictatorship. Following the fall of Somoza in July 1979, the Nicaraguan solidarity movement thrived. The Informationsbüro coordinated up to 300 action groups, organizing campaigns, national meetings, fundraising drives, projects, magazines and brigades. The aim of the Desk was to guide the Sandinista revolution through critical solidarity and support for political interventions in the Federal Republic.
From 1990 the Informationsbüro Nicaragua focused its efforts on the many organizations and underlying partnership arrangements to promote individual responsibility and self-organization among marginalized population groups.
The Informationsbüro has always been a strong advocate of very close project contacts, since that is the only way to reduce the paternalist structures inherent in all development aid.
The Informationsbüro Nicaragua has also addressed themes not specifically related to Nicaragua. Especially in the 1990s, issues concerning domestic solidarity and the anti-racism network became more important. Internationalist perspectives were another popular subject of debate, as reflected in a wealth of seminars and publications.
The archive of the Informationsbüro Nicaragua entrusted to the IISH comprises approximately 140 crates (spanning over 100 metres) with different kinds of material (magazines, documentation and archives).