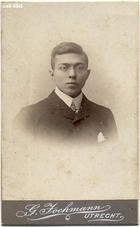 The Dutch journalist Louis Grondijs (1878-1961) was embedded in the army of the Russian czar in 1915. As soon as the First World War started, Grondijs, a schoolteacher in the provincial town of Dordrecht at the time, seized the opportunity to seek adventure. He made his way to the front in Belgium, France, and Russia, and his arrogance and boasting enabled him to penetrate to the high ranks of the military. Grondijs worked for the Daily Telegraph, the Nieuwe Rotterdamsche Courant and several French newspapers.

As a witness to the 1917 February Revolution in Saint Petersburg, Grondijs' dislike of the Bolsheviks grew. Later, he joined the counterrevolutionary White Army. Military life suited him, and he preferred to take part in the actual struggle. In 1932 he was in Manchuria during the Japanese occupation, where he met Pu Yi, 'the Last Emperor' of China in exile. Back in Europe, Grondijs lectured on Byzantine art history at Utrecht University (1935). The following year he traveled to Spain to report on the Civil War from the nationalist point of view.
Click here for more information on, and some photo's from, the collection of war correspondent Louis Grondijs.