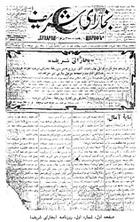 The newspaper Bukhara-ye sharif, which begun publication on 11 March 1912 in Bukhara, was the first Persian-language (Tajiki) newspaper in Central Asia. The Emirate of Bukhara with its capital Bukhara and its main city Samarkand had been a Russian protectorate since 1873. In 1920, after a successful attack of the Bolsheviks, it was replaced with the Bukharan People's Soviet Republic. After the dissolution of the Soviet Union and the subsequent creation of the independent Republic of Tajikistan in 1991, the founding date of the Bukhara-ye sharif newspaper was officially declared as the Day of the Press in Tajikistan.
The daily writes in its first issue: "people of ... [Central Asia] did not have a newspaper in their own national language. Now with the ambition and national heroism of a number of educational and development patrons of Bukhara-ye sharif, this newspaper of honorable Bukhara is established in the official language of Bukhara which is Persian. Now, this is the only news paper for the 9-10 million populations ..."
The publication objectives of the newspaper are stated under the title of "goals and objectives" in the headline of its first issue. In a part it says, "The goal and objective is to inform the people of Bukhara about the news in their surroundings, to promote the development and modernization of the fatherland and to increase knowledge, education techniques and industries. Therefore the columns of this paper are open for publishing the views of the knowledgeable. The region's prevailing atmosphere on one hand, and the tranquil situation prior to the First World War on the other hand, compelled modernists of Bukhara to publish and propagate their views among the people for the implementation of reforms in the Emirate of Bukhara.
An almost complete run of this newspaper is available in the International Institute of Social History, under call number ZF 65850