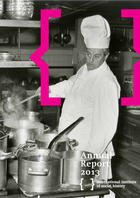 The strategic shift announced in 2012 came about in 2013. In January we formulated a new policy, which will guide our actions in the years ahead. In our research the successful Global Labour History programme will remain an important focus.
The IISH will align its collection activities with this programme to concentrate on what has traditionally been the core business of the institute: labour and labour relations. In addition, collection policy will accommodate the sharply rising demand in research for data and digital archives.
In the spring these choices became the foundation for a reorganization plan intended to solve the financial problems of the institute as well. Following up on this plan, we went through a painful but unavoidable process. It was inevitable to reduce the headcount by over 12 full-time equivalents in order to balance the budget. On 31 December the reorganization formally concluded. The organization has become less elaborate but is also better and more straightforward. With renewed confidence in the future we made a fresh start in January 2014. Staff members are highly motivated to further strengthen the institute's excellence.
Read here or download the pdf.