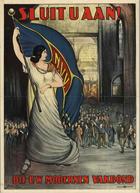 In 1998 the International Institute of Social History (IISH) initiated a research project to compile a dataset of Dutch working class' organizations from the nineteenth and early twentieth centuries. This dataset should encompass 'all workers' organizations of which it might be assumed that they were engaged with workers' interests excepting mutual insurance because a database with this kind of organizations was already available'.

>> SEARCH THE DATABASE
Because its treasurer Henk Muller was strongly in favour of the project the Netherlands Federation of Labor Unions (FNV) financially supported the proposal after which Arno Bornebroek, Jannes Houkes and Piet Hoekman started building a dataset with information on such workers' organizations. They were assisted with data entry by a number of temporary employees.
At a later stage the Ministry of Social Affairs and Employment and the IISH also afforded financial support. The project manager was Henk Wals, succeeded by Lex Heerma van Voss. Sjaak van der Velden and Kees Mandemakers checked, adjusted and prepared the dataset for publication on the Internet after which the Digital Infrastructure department built the present web application. If you want to see the whole database, please email to: svv@iisg.gl