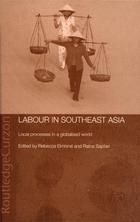 In the first volume of the new book series Changing Labour Relations in Southeast Asia, that the IISH publishes with RoutledgeCurzon, fifteen contributions deal with labour issues in twentieth-century Southeast Asia. Given the transformations taking place in many parts of Southeast Asia, the question of labour remains as pertinent today as it has ever been. Labour issues are central to the social tensions marking the transformations taking place in both rural and urban areas, and underscore the myriad ways people have responded to economic and political crisis.

In aiming to understand the multiple and specific dimensions of labour in this region, this book offers a collection of empirical studies of labour across a range of time-frames (colonial and contemporary), economic sectors, labour processes and community contexts. In seeking to provoke debate, the book reveals the variety of experiences evident in countries and regions marked by capitalist and (post)socialist regulatory frameworks, and contrasting labour regimes, histories and cultures.
The contributions show the importance of critically examining both the complex nature of global-local links and the particular ways economic processes are refracted through culture and locality in Southeast Asia.
Clustered around the themes of labour regimes, labour processes, labour mobility and labour communities, the essays show how economic development is not only shaped by market forces but is also interlocked in systems of meaning.
Rebecca Elmhirst is Senior Lecturer in the School of Environment, University of Brighton, UK
Ratna Saptari is Senior Researcher at the International Institute of Social History, Amsterdam, The Netherlands