20:00 - 21:30 uur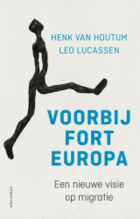 Avond met: migratie-experts Henk van Houtum, Leo Lucassen en Thomas Spijkerboer en Denker des Vaderlands Marli Huijier.

In Voorbij Fort Europa. Een nieuwe visie op migratie ontvouwen Henk van Houtum en Leo Lucassen, twee vooraanstaande migratie-experts, een baanbrekende visie op het Europese migratiebeleid. Er is een Fort Europa ontstaan, met desastreuze gevolgen. De mensensmokkel floreert, er worden dubieuze deals gesloten met autocratische regimes en er vallen duizenden doden. De EU verliest steeds meer grip op haar eigen beleid.

Van Houtum en Lucassen plaatsen de migratie naar Europa in een breder historisch en geografisch perspectief en leggen de tegenstrijdigheden en averechtse effecten van het huidige systeem bloot. In een tienpuntenplan presenteren ze concrete alternatieven voor een duurzaam en rechtvaardig migratiebeleid, voorbij Fort Europa.
Tijdens deze avond lichten de auteurs hun visie toe.  Denkers des Vaderlands Marli Huijjer en hoogleraar migratierecht Thomas Spijkerboer geven commentaar. 
Bijwonen is gratis, maar graag aanmelden via Spui25.
Moderator: Nathan de Groot.
Over de sprekers
Henk van Houtum is hoofd van het Nijmegen Centre for Border Research aan de Radboud Universiteit en professor Border Studies aan de University of Eastern Finland. Hij publiceerde onder meer Grensland en Eerlijke nieuwe wereld.
Leo Lucassen is directeur onderzoek van het Internationaal Instituut voor Sociale Geschiedenis (IISG) in Amsterdam en hoogleraar Sociale Geschiedenis aan de Universiteit Leiden. Hij publiceerde onder meer The Immigrant Threat en samen met Jan Lucassen, Winnaars en Verliezers. Een nuchtere Balans van vijfhonderd jaar Immigratie. 
Marli Huijier is Denker des Vaderlands en bijzonder hoogleraar publieksfilosofie aan de Faculteit der Wijsbegeerte, Erasmus Universiteit Rotterdam. In 2016 verscheen haar essay Achterblijven waarin het fenomeen 'achterblijven' wordt onderzocht in relatie tot de overzeese migratie vanuit Europa. Ook verscheen in 2016 haar boek (samen met M. Hees) We zijn allemaal migranten. Een pleidooi voor Europese openheid.
Thomas Spijkerboer is hoogleraar migratierecht aan de Vrije Universiteit. Momenteel leidt hij het onderzoeksproject 'Border Policies and Sovereignty. Human Rights and the right to life or irregular migrants'. Daarbinnen doet hij deelonderzoek naar de mensenrechtelijke aspecten.