To coincide with the celebration of twenty years of democracy in South Africa, the IISH has now made available to researchers the archives of a unique Dutch organization: the Shipping Research Bureau (SRB), a small institute established in Amsterdam in 1980. It continued in operation until sanctions against apartheid were lifted in late 1993, and was pivotal for the world-wide movement to isolate the apartheid regime economically and politically, focusing on oil sanctions.
The SRB, led by two Dutch anti-apartheid organizations whose archives are also held by the IISH (the Holland Committee for Southern Africa and the Working Group Kairos), published a series of thoroughly researched reports on violations of the international oil embargo that were extensively used world-wide to lend factual support to demands by anti-apartheid groups, unions, churches, liberation movements, supranational bodies, and others for a stricter implementation of the oil embargo and for campaigns against companies that supported apartheid.
The correspondence and internal notes of the bureau, its reports and newsletters and collections of press clippings, among other material, shed ample light on the internal workings of the bureau and the ramified national and international network of solidarity groups and others engaged in promoting and campaigning for oil sanctions during the apartheid era.
A full finding aid is now available online, as is a freely downloadable PDF of the book Embargo: Apartheid's Oil Secrets Revealed, which tells the history of the SRB and the international oil embargo and discusses the campaigns waged in several countries against companies such as Shell Oil.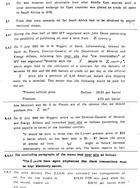 The SRB collection attracted international interest even before the finding aid was available, when a researcher visiting the IISH in 2013 was amazed to find in this collection a confidential South African document he had not been able to track down in South Africa. In 1984, the SRB acquired a photocopied confidential report of the Advocate-General, which, although it had many censored passages, offered a rare glimpse from within the oil-starved apartheid state of its procurement practices, and thus giving away some closely guarded secrets and confirming a number of the conclusions the bureau had reached in the course of its research.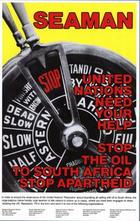 Sailors were asked through posters distributed in several languages by "Maritime Unions Against Apartheid" to tell the Shipping Research Bureau what they knew about embargo violations (see inventory numbers 628-636).
Text: Richard Hengeveld