Letters from a Javanese princess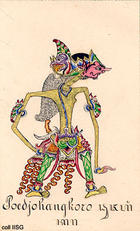 Princess Kaïda was born on 11 December 1893 as the daughter of the Javanese prince Notodirodjo. Notodirodjo allowed all his children, boys and girls, to attend European school and Kaida was trained to become a schoolteacher at a Javanese primary school. Kaïda's letters (1912-1916) to her Dutch friend Kaatje Schijfsma in Leiden are the high point in a collection of memoirs, family correspondence and photo's donated to the IISH in 2004, the Schijfsma-Reydon collection.
Kaïda's letters testify to her will to become independent. Education is the key to a happy future. In March 1914, she writes:
'Oh, that will really be wonderful when we come back home with a diploma in our pocket. That is especially true for us Javanese women; with such a diploma you are armed in the battle of life... I have to tell you that I truly get pleasure from my work. If you could only see how pleasant and uninhibited the children are outside the lessons, especially the girls... how they act with one another. No nobles with nobles, subordinates with subordinates, no, they all behave very sweetly to each other. But will this relationship continue, even when they later become important people - that is the big question.'

Text was taken from On the Waterfront - newsletter of the Friends of the IISH Issue 9 (pdf, 780 Kb).