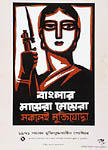 Many posters from Bangladesh at the IISH cover issues of crucial importance to this youthful nation's history. Formerly a part of undivided India as East Bengal and since 1947 the eastern wing of Pakistan, Bangladesh became independent in 1971. The bloodbath that accompanied the war for liberation has not faded from the memory of the nation.
The political awareness of the nation is reflected in these posters. Telling in this respect are the many calls to try the collaborators with Pakistan, especially Golam Azam.
These posters repeatedly warn against fundamentalist and communalist elements. The strong left-wing culture is clearly visible from posters released on the occasion of the birth centenary of Mao Zedong, or May Day.
Many students sacrificed their life on 21 February 1952 in demanding the introduction of Bengali rather than Urdu as the official language of the country. Homage is paid to them through the celebration of the day since known as "Language Martyrs' Day". Posters released in support of Bengali, the regional language, and by the National Poetry Festival, or by artists' groups like Udichi are witness to the rich cultural heritage of Bangladesh.
There are many posters focusing on women who play an important role in every sphere of life - from politics to the paddy fields to the garment industry, which covers the world market. Apart from these, the posters issued by trade unions, peasant organizations, student associations, and political parties offer a rich visual impression of various aspects of socio-cultural and political conditions in Bangladesh.
The posters go back to 1979. They were collected and donated by Shahriar Kabir (IISH representative in the region), Willem van Schendel, Kamal Pasha Chowdhury, and Kazi Biplob. The collection is described in the catalogue (search for 'Bangladesh' and 'affiche').
Text: Bhaswati Bhattacharya, Shahriar Kabir