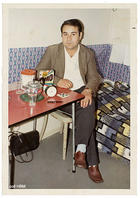 On 19 August  1964 Turkey and the Netherlands signed a formal treaty. From then on Dutch companies could recruit temporary workers in Turkey – until the "oil crisis" ten years later made an end to this.
On the fortieth anniversary of the treaty the International Institute of Social History (IISH) and the Inspraakorgaan voor Turken in Nederland (IOT) jointly took the initiative for a historical review. It's about the experiences of Turkish migrants themselves.
Erhan Tuskan went collecting their documents and photographs, and wrote down their first experiences in the Netherlands. He spoke to people from different backgrounds on the hopes and dreams when they came to the Netherlands. But also on their everyday experiences. An mayor part of the photos he collected, were stored in the Historical Picture Archive Migrants (Historisch Beeldarchief Migranten).
Literature
Erhan Tuskan & Jaap Vogel, Lied uit den vreemde - Gurbet türküsü. Brieven en foto's van Turkse migranten 1964-1975, Amsterdam (Aksant) 2004.
The first copy of the book was presented on 23 December  2004 by the President of the IOT, Sabri Kenan Bagci, to the Dutch Minister for Immigration and Integration, mrs. R. Verdonk.