Between 1988 and 1994 a Dutch relief officer crossed the countryside of Sri Lanka to help people and communities threatened by the Civil War between the Tamils and the state. In 1994 he settled in Jaffna, where he stayed about ten years. He talked with ordinary people and with activists. He noted his observations in his diaries.
The diaries were recently given to the IISH and are now in the Ben Bavinck papers. These diaries, comprising 23 notebooks, are written in Dutch, and provide a vivid impression of the Civil War years.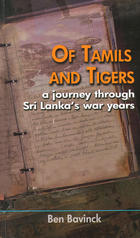 At the initiative of his son, the social-geographer Maarten Bavinck, the diaries were translated into English and have been published. The first volume appeared in 2011 under the title Of Tamils and Tigers. A journey through Sri Lanka's war years. Part I 1988-1994.The diaries of Ben Bavinck; edited by Maithreyi Rajeshkumar (Colombo: Vijitha Yapa Publications, 2011). The second volume is planned for 2013.

Bavinck was born in 1924 in Bandung in the Dutch East Indies and grew up in a Dutch missionary family. The family returned to the Netherlands in 1939, and Ben spent the years of occupation there. In 1954 he departed as a missionary and teacher to Ceylon, the later Sri Lanka, and settled in Jaffna, where he taught history at the Jaffna College. He learnt to speak Tamil fluently and became familiar with the Tamil community. With his family, he returned to the Netherlands in 1972 and worked as director of the World Service Department of the Reformed Churches. After his retirement in 1988, he returned to his beloved Sri Lanka to work for the National Christian Council as their relief and rehabilitation officer in the context of the war. In 2004 Bavinck returned to the Netherlands. He died in 2011.
-->