This is a selection of posters about labour relations and trade unions from the collection of Bangladesh Posters, collected by the IISH and Heritage – Archives of Bangladesh History . Click on the picture for an enlarged image.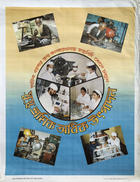 1. 'Healthy workers make for higher production. Prevent accidents by maintaining health rules in factories and workshops.'   
Industrial Health Branch, Department of Health, Government of Bangladesh.

2. 'We demand: Equality – Dignity – Rights!' 
Bangladesh Trade Union Centre & National Committee of Women Workers.
IISH Call nr:  BG D78/368
3. 'Poor village people aim for food security all year – we demand a scheme to give us guaranteed work for at least 200 days a year – give us work, give us food. Give poor villagers property rights in government land and ponds and thereby create permanent work for them!' 
Unified People's Welfare Society (Dinajpur/Dhaka).
4. 'Don't risk your life by pulling sugarcane from trucks, tractors or trolleys! Sugar mill authorities are not responsible, if an accident occurs when pulling off sugarcane.'  
Rajshahi Sugar Mills Ltd.
5. 'Biennial meeting of the North Bengal Regional Committee of the Bangladesh Truck Drivers and Workers Federation at Ullahpara.' 
Bangladesh Truck Drivers and Workers Federation (Ullahpara, Sirajganj, 1997).
IISH Call nr:  BG D74/823
6. 'How much longer must we endure this poverty and exhaustion?'  
Bangladesh Joint Society for Human Rights, World Human Rights Day (Dhaka, 2000).
7. 'World Day for Safety and Health at Work. Workplace health and safety are workers' basic rights. "We demand accident-free, safe working places!"'  
International Confederation of Free Trade Unions (ICFTU) (2001).
8. 'Imperialist aggression and capitalist globalization are enemies of humanism – Build up international workers' unity in the spirit of Labour Day!' 
Society for Worker-Employee Unity (2003).
IISH Call nr: BG D29/930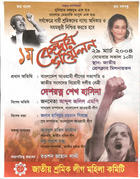 9. 'Workers of the world unite. Manual labourers of Bangladesh unite. We must secure women workers' equal rights and equal pay.' 
Women's Committee, National Workers' League (2004).
IISH Call nr: BG D78/369
10. 'Save the jute industry! Save the workers! Save the country! Make a success of the general strike and the 24-hour total work stoppage!'  
The Committee for the Struggle of the Jute, Cotton and Textile Workers and Employees (2005).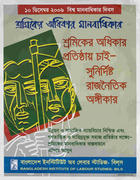 11.  'workers' rights are human rights! We demand the institutionalisation of workers' rights – a clear political pledge.' 
Bangladesh Institute of Labour Studies (2006).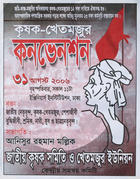 12. 'Convention of peasants and agricultural labourers. Unite behind the twelve demands on the right to land, work and wages.'  
National Peasants' Committee and Agricultural Labourers' Union (2006).