This is a selection of posters about elections from the collection of Bangladesh Posters, collected by the IISH and Heritage – Archives of Bangladesh History. Click on the picture for an enlarged image.
 

1. 'Rescue our country and politics from the grip of terror, arms, black money and disorderly politics! Vote for the sign of the dove, Vote for Proloy Nondi (Romen), leader of the Democratic Party and former chairman.' 
(Inhabitants of Ullapara and Sholonga).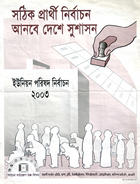 2. 'Voting for genuine candidates will bring the country good governance. Union Council Elections 2003.'  
NIPOM – Elections Observation Platform (Dhaka, 2003).

3. 'Vote for the hurricane lamp, for Haji A.B.M. Mohiuddin Choudhuri, the mayoral candidate selected by the Citizens' Committee, to protect the interests of neglected Chittagong City!' 
(Chittagong)
4. 'Don't vote into parliament the murderers, collaborators and war criminals of 1971, nor those ousted despots who have killed workers, peasants and students … Vote for candidates who cherish the ideals of the Liberation War!' 
Centre for the Protection of the Memory of the Liberation War (Dhaka). 
IISH Call nr: BG D30/283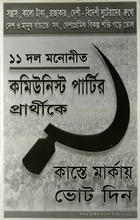 5. 'Vote for the Communist Party candidate selected by the Eleven-Party Alliance. Vote for the sickle!' 
Communist Party of Bangladesh (2001).

6. 'We want Al-Hajj Sheikh Mohammad Abdullah to be elected as Member of Parliament for Munshiganj!'  
Bangladesh Nationalist Party, Munshiganj.
7. 'Don't vote for he alliance of fundamentalist Taliban & Razakars.' 
Forum for Secular Bangladesh and Trial of War Criminals of 1971 & Centre for the Protection of the Liberation War (2001). 
IISH Cal nr: BG D29/781