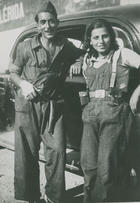 Traduccion español: La Revolución traicionada.
They were left with no other choice. Just before the end of the Spanish Civil War (1936-1939), the anarchists and anarcho-syndicalists of the CNT-FAI managed to smuggle their archives, in rifle boxes, out of Spain to protect their memory from francoist extermination. Paris, London… it was a long journey to Oxford, where Amsterdam's IISG had set up an affiliate institute in the face of the threat of Nazi occupation of the Netherlands. The sealed wooden boxes remained there during the turbulent years of the Second World War.
After the war, the red-black legacy remained intact. The anarchists' boxes were shipped to the IISG in Amsterdam in 1947 and were eventually opened in the 1970s. Among the papers relating to the Spanish Libertarian Movement, there were also thousands of negatives and photographs taken during the civil war
The images show the revolutionary experience that took shape especially in Barcelona and the Aragón villages, from the beginning of the war until May 1937; the crucial moment of the contra-revolution essentially developed by the Republican Government, and the communists under Stalins orders. In this way the attempts to destroy the collectivisations, the militarization of the militias and their forced integration into the Republican army were pivotal attacks during the contra-revolutionary process. On the other hand, the CNT collaboration with the government didn't help either. While part of the anarchist movement wanted to win the war against the fascists and realize the revolution at the same time, others postponed the revolution in order to first win the war, thus justifying their governmental participation.
The activity of the CNT-FAI, FIJL and SIA are well-represented in the collection. But beyond this, the photos show the dedication and enthusiasm of the real protagonist of those days, the women and men given to the struggle. Nevertheless, this exhibition is just a small sample that reflects the revolutionary atmosphere in the streets of Barcelona in the early days: the barricades, the closing and burning of churches, the destruction of fascist property in the square, the improvised kitchens in the street for the militiamen and women. And the self-management of the workers. There are photographs of the seizure and collectivization of the means of production by organized industrial workers and transport and commercial workers from the city. In short, these are images that reflect the frenetic and creative activity of the working class in their attempt to build a new society.
Their makers, also actively involved in the fight and aware of the reference value of the image, took photographs of what they found to be iconic for the revolution. All these photos, a lot of them published in the newspaper Solidaridad Obrera during the war, have an added value. Captured in black and white, taken with a Leica camera, they have captions written on the back with the passion and optimism of those who could already feel the end of the bourgeois regime nearing and the arrival of the Social Revolution.
Eighty years later, this collection of photos serves to rescue the history and the betrayal suffered by the social revolution of 1936 from "oblivion", Power's ally. And let's remember their faces!
Text and compilation: Almudena Rubio Pérez
For a detailed description of the CNT Photo Collection, consult the IISG Catalogue